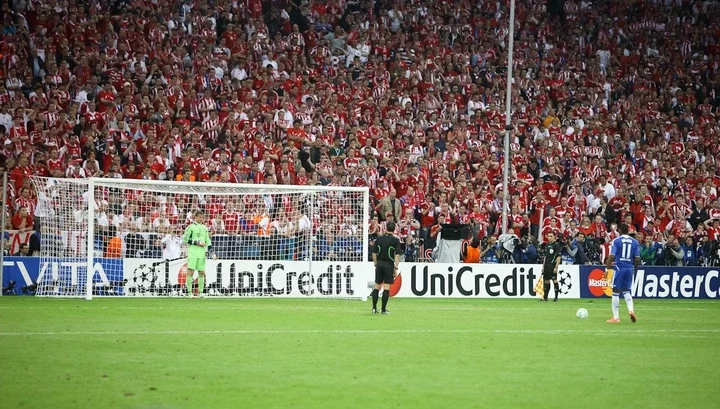 Champions League is renowned for its dramatic moments, and few events encapsulate the intensity and high stakes quite like penalty kicks.
In this article, we'll take a look at some of the penalty records in the Champions League.
Who has taken the most UCL penalties?
It's no surprise to see the two footballing titans, Lionel Messi and Cristiano Ronaldo, leading the charts for the most penalties taken. Messi has confidently stepped up to the spot more times than any other player, with 18 attempts. Right behind him is Cristiano Ronaldo, just one penalty behind his eternal rival.
In third place, we find Robert Lewandowski, who has taken 15 penalties in the competition. The Polish striker, aiming to catch up to Messi and Ronaldo, could climb even higher in the rankings if he continues his prolific form in the Champions League.
Player with most scored penalties
The dynamic changes when it comes to the players who have scored the most penalties in the Champions League. Cristiano Ronaldo takes the lead with 19 successful conversions, narrowly surpassing Messi's 18. Robert Lewandowski continues to shine in this category with 16 goals, having missed only once from the spot during his Champions League career.
Champions League worst penalty takers
Even the most gifted strikers can falter from the penalty spot. Thierry Henry missed five out of eight penalty attempts during his European campaigns, reflecting the challenges faced by even the most talented players.
Messi, though, also has five misses to his name, but he took a significantly larger number of penalties (23) compared to Henry. Sergio Aguero falls in line with four misses out of 15 attempts.
Best penalty-saving goalkeepers
When it comes to penalty-saving prowess, Andrii Pyatov of Shakhtar Donetsk leads the way with five saved spot-kicks. His accomplishment is made even more remarkable by the fact that he has faced 17 penalties over the years. Iker Casillas, the legendary Real Madrid goalkeeper, holds the record for facing the most penalties in the Champions League. Casillas faced up to numerous penalty attempts, with four resulting in non-goals. The Spanish goalkeeper saved two, while the other two missed the target.