Nollywood actress and Big Brother housemate Erica Nlewedim is currently doing a press tour for her upcoming movie "A Weekend to Forget" which will be in cinemas soon, and one of the stops of the tour was Cool FM where Erica got to sit down with Tacha and talk about everything from why she didn't go back on the Big Brother show to her thoughts about Uriel. Here's every major thing that Erica said during her interview.
Why did you not go on the Big Brother Naija All Stars show?"
ERICA NLEWEDIM: Because I feel like the reason why I went for Big Brother, I already got it. In fact, I'm doing like way bigger than whatever I thought I was going to be. So why do I need to go back and start fighting for indomie and all those things.
"Who are your top 5 housemates?"
ERICA NLEWEDIM: I will pick my guy Cross, his guy Pere, and then obviously the leading ladies Cee C, Mercy, and Ilebaye.
"Are you single?"
ERICA NLEWEDIM: So I am…entertaining a few people let's just say. Not siutationships, situationships are too deep. So I am dating, but I am not in a relationship. Because I don't want to be committed until I find somebody that I feel like yeah, I can be with this person. It's until I'm married before I'm not single.
"One time I had Uriel here and I asked her "ah ah, what is going on between you and Erica?" and she's like "ah, I have no beef with Erica. I love Erica. If there's anything going on, I'll appreciate if she calls me and let's have a conversation". I'm so sure that call has not happened so is there anything going on between you and Uriel?"
ERICA NLEWEDIM: Uhmmm, I know about Ariel not Uriel. So Ariel, little mermaid, I love The Little Mermaid [laughs].
"So let's just look at it that nothing is going on between you guys?"
ERICA NLEWEDIM: I don't even know the person [laughs].
"How do you feel when they call you "disqualified"?"
ERICA NLEWEDIM: So I think it's funny because it's a game show. It's not like I was disqualified from life or something very serious. It was a game. As in, I don't understand. And actually, the winners are not usually the real winners on a normal day. And even if I had stayed, I probably would have gotten like second place and nah, it's better the way it was please.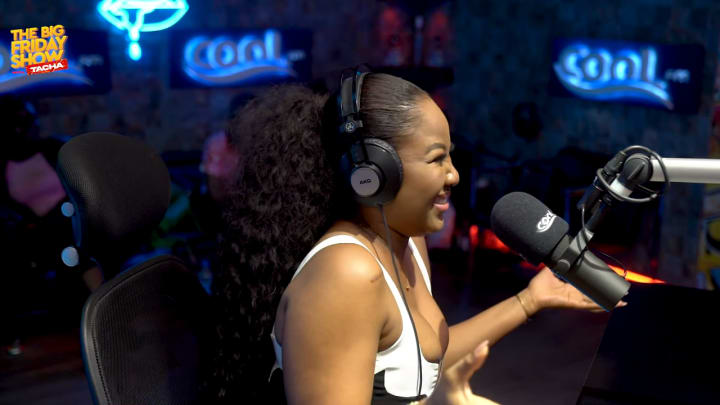 Erica really is an interesting person to interview because she actually gives real answers and says exactly how she feels. What do you think about what Erica said? Let me know your thoughts by leaving a comment.