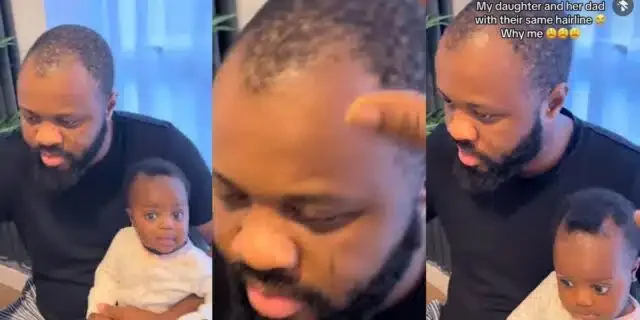 The striking resemblance and identical hairlines of a little girl and her father have generated reactions online, with one individual maintaining that there isn't a need for a DNA test, as the resemblance is evidence enough.
In a video recently uploaded on the popular social media platform TikTok, a little girl was calmly seated on her dad's lap.
Individuals couldn't help but notice the identical hairlines on the daughter and the father after the video made its way to the internet.
Concerned individuals have commented on the post to share their views.
See some reactions below:
Rukuuu: "‎this one you don't need DNA test evidence dey."
Mo_shugar21: "‎This is the only thing my dad passed to me that I hate half plot hair line."
Sexy wife: "‎Mine is bald on the middle am worried about my child but am very hairy hope it gets mine."
Lavigne_Sulwe: "‎story of my life My dad and I both have receding hairlines and foreheads, while my mom and my brother both have a full head of hair."
Chubby Barbie: "‎Me sef get na my papa hairline.And shockingly I'm the only one dat has it."
B.bless: "‎This was also me till I started applying Mara cruiz products on my daughter's hair now the change is massive."
coronaciudad: "‎We are in the same boat. my daughter has also taken her father's receding hairline."
Marie: "‎I was crying abt my daughter taking my husband's head shape Y'all its oval ? I mean rugby ball oval ayeeee."
Lauryn: "‎stop this is my father and I. I wear the hairline soooo much better than him though he been bald since 28 now."
Watch video below: