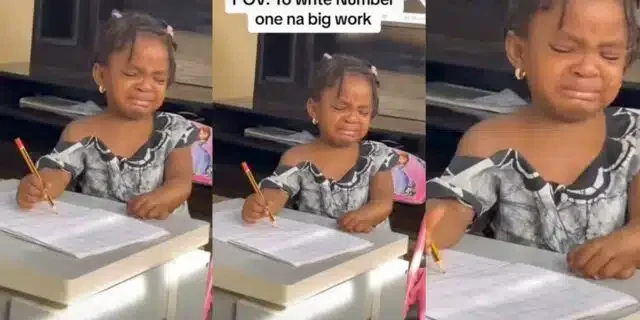 A viral video that has stirred emotions online shows a little girl crying bitterly after being told to write number 1 during her assignment.
in the video which surfaced online the little girl was spotted holding her paper and doing her assignment.
She was apparently told to write the number 1 and since she couldn't she broke down in tears so as to induce her tutor to allow her be.
netizens who reacted to the video have opined that she still has a lot of mathematical equations waiting ahead of her.
Check out some reactions gathered …
@Your skincare vendor✨ said: "She should write number 1 as how??😑, what do you mean?😭😹"
@toffy reacted: "not her tasting her tears 🤣🤣🤣🤣🤣"
@Pheedaami Sinjen said: "Since crèche person never rest💔Omo I feel her pain jar"
@<3 said: "Further maths dey wait for her 💀🤣🤣"
@mantaa_lifestyle stated: "All she wants to do is watch cocomelon. Don't stress her with number 1 🤣"
@mantaa_lifestyle:All she wants to do is watch cocomelon. Don't stress her with number 1 🤣