The Muslim Rights Concern (MURIC) has offered three prayer suggestions to Pastor Enoch Adeboye, the General Overseer of the Redeemed Christian Church of God (RCCG), regarding the current conflict between Israel and Palestine in Gaza.
Professor Ishaq Akintola, the Executive Director of MURIC, issued a statement on Saturday, October 14, advising Pastor Adeboye to pray for the entire world rather than specifically for Israel.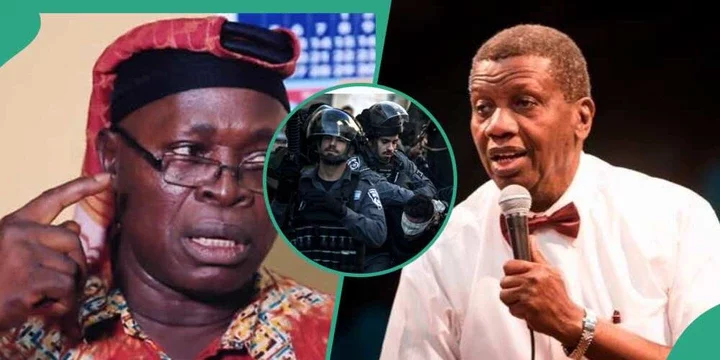 Akintola encouraged Pastor Adeboye to pray for the failure of oppressive forces involved in the conflict between Israel and Palestine.
It would be recalled that Pastor Adeboye had previously expressed support for Israel in the ongoing conflict and had announced his intention to pray for Israel's victory through a video message on his social media platform.
As reported by Newsmen, the statement reads partly:
"We have been reliably informed that the General Overseer of the Redeemed Christian Church of God (RCCG), Pastor Enoch Adeboye, has declared support for Israel in the ongoing war between the Zionist nation and Palestine. He also said he was praying for Israel to be victorious.
"We are bewildered that a religious leader of Pastor Adeboye's standing can ignore the sufferings of a people who have been under occupation, siege, arbitrary arrests, long imprisonments accompanied with severe torture, family separations, demolition of homes without warning, extra-judicial killings on a daily basis and the most horrendous dehumanization and violation of fundamental human rights."
MURIC send crucial message to Nigerians.
Prof Akintola stated that the ongoing crisis between Israel and Palestine was not triggered by religion; instead, it was a dispute over territorial control.
He urged that Nigerians should not be divided by religious lines but rather join hands together in peace and love.
He said:
"That is why Nigerians should not exchange hostilities over the conflict in the Middle East. We should not be divided along religious lines. Good Muslims and good Christians should continue to interact, love and share.
"Instead of praying for Israel's victory specifically, we invite Pastor Adeboye to pray for failure for the oppressor between Israel and Palestine."
Israeli ground forces enter Gaza thousands scamper for safety
Meanwhile, thousands have begun to scamper for safety following an announcement by Israeli forces to launch an operation inside Gaza within 24 hours.
However, reports have confirmed that Israeli ground troops have already broken into Gaza trips in an attempt to decimate the Islamic resistant group Hamas.
It was gathered that Palestinians, in hundreds of thousands, have fled northern Gaza to the southern part for safety.