The Israeli military claimed that the commander was killed by a drone strike but refused to divulge the location or time of the strike.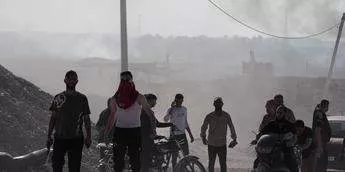 Fires break out at the Nahal Oz military site after Hamas entered it.Getty Images
The Israeli military said an elite commander of the Hamas terrorist organisation has been killed in an airstrike.
The militant commander, identified as Ali Qadi, was said to have masterminded the brutal onslaught that took place in Southern Israel in the early hours of Saturday, October 7, 2023.
The terrorists launched a multi-pronged attack from land, sea, and air, killing over 1,000 people in Israel and taking not less than 120 others hostage.
The attack provoked a response from Israel as the European country declared war on Hamas. Since that time, Israel has fired thousands of rockets into Gaza, destroying hundreds of houses and killing over 2,000 Palestinian residents in the area.
The Palestinian militant group Hamas uses the Gaza Strip – a densely populated area with 2 million inhabitants – as its base.
Meanwhile, a statement by the Israeli Army on Saturday, October 14, 2023, claimed that military "aircraft killed Ali Qadi, a company commander of the Hamas 'Nukhba' (elite) commando force."
The statement was silent on the location and time of the strike. A Hamas official declined to comment on the Israeli claim.
However, the official who spoke to AFP on the condition of anonymity confirmed Qadi, 37, was a unit commander in the elite Hamas force.
Both Israel and Palestine have confirmed that Qadi was one of more than 1,000 Palestinian prisoners released by Israel in 2011 in exchange for a soldier, Gilad Shalit, captured by Hamas in 2006.
The Israeli Army arrested Qadi in 2005 in connection with the kidnapping and murder of an Israeli man who was widely reported to be a broker for the Shin Bet internal security agency.