A video has caused a buzz online, showcasing an office prank pulled off by a cunning boss lady on her unsuspecting employee.
In the prank video, the unidentified young girl, was led to believe that she had been caught gossiping about her boss's personal and professional life.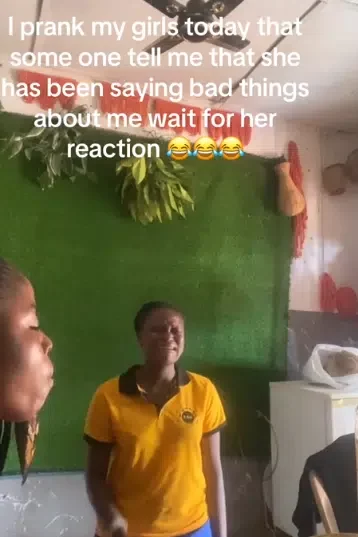 Her boss played a clever trick on her, feigning receipt of a voice note from an anonymous whistleblower who had allegedly exposed Emily's malicious behavior.
The boss, whose identity remains undisclosed, orchestrated the prank to appear as genuine as possible, causing the young girl to fall for it completely.
The girl was left shocked and scared when her boss confronted her with the fabricated voice note as evidence and asked her to pack her belongings and leave the workplace.
As seen in the video, the young girl was initially taken aback by the boss's serious demeanor, believing she was in deep trouble.
With tears streaming down her face, she pleaded her innocence, even resorting to kneeling on the floor to beg for mercy.
Netizens Reactions…
@Okkelvin reacted; "Madam just da make Pablo girlfriend cry. Wetin dey happened."
@Everything_Joyce said: "Her tears dropped a tear from my eyes."
@Beauty J Empire said; "Na all this one ready to learn work if na some girls dem for don go house."
@Nelly Osagie said; "This prank is too expensive."
@Basilokechukwu commented; "Settle that girl well ooo…Infant version broken."
@AdeFocus said; "And I was crying for her desperate it is a prank."
@Chrisbella said; "I don't have mind, I will cry and leave even if u later tell me say na prank I won't be fine afterwards. Too expensive one."
@Sandra Boateng said; "Please throw her a party for being loyal."
@Known_as_laba said; "Ha she's from a good home. Cos other girls will just leave."
See below;