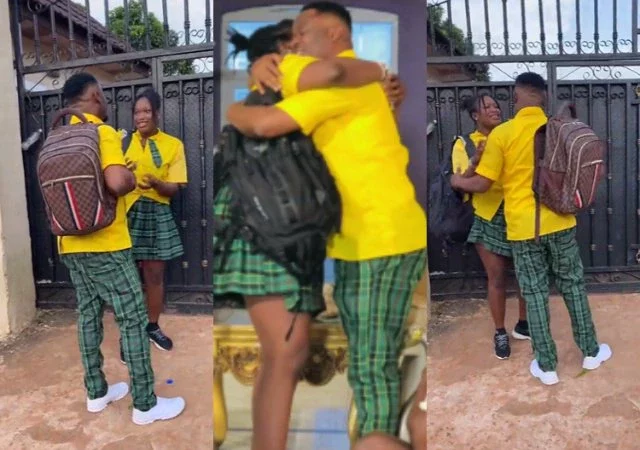 Nollywood's actors, Ifedi Sharon and Zubby Michael, have just linked up on a movie set, causing a stir on social media.
Sharon wore a brilliant yellow shirt with a green skirt school uniform in a newly posted video on her social media page, while Zubby wore a shirt that matched hers and trousers in the same colour as her skirt.
Both easily draped their school bags over their shoulders with one hand, animatedly conversing as they awaited the movie director's call to action on the set.
In a different snippet of the video, Zubby Michael is seen in the thick of a lively action scene unfolding in a cozy living room, alongside female colleagues. And right there in the same scene, Ifedi Sharon, cast as Zubby's secondary school sweetheart, was captured in a warm embrace with the actor as they skillfully brought their lines to life on the set.
See Video Below;
Fans who caught a glimpse of the video couldn't contain their excitement, continually swooning over the ever-enjoyable moments when these two unite on a film set.
Some couldn't help but burst into fits of laughter at the sight of Zubby Michael in a school uniform, resulting in a cascade of side-splitting reactions.
This comes weeks after Ifedi Sharon responded to rumors regarding her romantic entanglement with Zubby Michael.
Via her official TikTok account, the actress set the record straight regarding some misconceptions about her and the actor.
Participating in the trending 'Amebo' TikTok challenge, Sharon Ifedi debunked the widespread rumors surrounding her supposed pregnancy and marriage to Zubby Michael.